Dear Reader,
I am an author, and I want to tell you about the best reader ever. She approached my book signing table with a smile on her face despite the oxygen tank she was pulling and the clear tubes hooked over her ears like the girl in The Fault in Our Stars. Of course, I didn't know anything about that book back then, but I knew the importance of lungs. In the book this reader was asking me to sign, the first chapter opens with a young woman having a severe asthma attack that has devastating circumstances. I never imagined that one of my first readers would be a thirty-something mom pulling an oxygen tank standing at my book signing table, and I worried about how the scene would affect her.
I heard from her soon after and she loved the book. She wanted to have coffee to talk about it, and so we did. It didn't seem odd at all to be invited by a reader in my hometown to have coffee, even if she was a stranger. She turned out to be delightful. Over time we communicated occasionally. She read the second book when it came out, and then wanted to know when the one was coming, specifically the one about the coma.
When I had coffee with that reader, I had told her about an idea I had for a new book. It would start out with the main character in a coma, aware of everything that goes on around her. It was nothing like the books I had already written and I wasn't sure it would even be believable. My reader friend surprised me by explaining that she had been in a medically-induced coma once, and assured me that she heard things that were said around her. It was more than possible because it had happened to her. She said she couldn't wait to read it.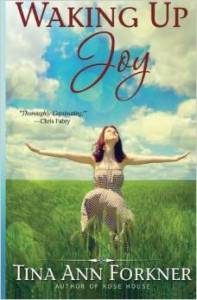 Over the years, she sent me messages that she was waiting for my next book, and I can't even tell you how nice it was to hear her say that. It wasn't just nice, it was encouraging. Unfortunately, years passed before my third novel, Waking Up Joy, would be contracted by a publisher. When I was finally sure about its release, my reader friend is the one I really wanted to tell. I hadn't heard from her lately, but I wanted to let her know that her comments during our coffee had encouraged me to finish the book. Every time she had contacted me to say she couldn't wait for my next book, it had meant something to me. And even though the book wasn't about her, I was grateful that she shared her coma experience with me. I wanted her to know that.
Read the Rest: Dear Reader, You Matter to Authors {On Reading} | 5 Minutes For Books